The Armenian Evangelical Church of New York is the oldest Armenian institution in the New York metropolitan area. The church emerged from the need to unite the Armenian immigrants who were looking to worship without fear of persecution for their beliefs.
Upon his arrival from the Ottoman Empire in 1881, Rev. Garabed Nergararian started conducting prayer meetings for the Armenian community of New York City. Initially, the meetings were held in his home. Later, they were moved to the City Mission, which was led by Rev. Schauffler. His father was a missionary within the Ottoman Empire and worked closely with the Armenian Evangelical Church there.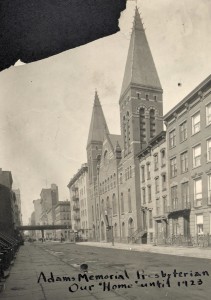 The church's first official service was held on November 14th, 1896 at the Adams Memorial Presbyterian Church. Rev. H.H. Khazoyan, a seminary student, led the initial organization of the church and then became its first pastor. There were a few Armenians in New York City at the time, but as the persecutions and massacres of the Armenians in Turkey continued through 1895, increasing numbers began to immigrate to America. Eager to continue to serve Christ in their new homeland, Armenians flocked to the Armenian Evangelical Church of New York.
As the congregation grew, worshippers thought that they needed their own church building.  In November 1921, a generous donation from the Telfeyan family made it possible for the church to purchase property on 34th Street. The dedication for the church building was held on Christmas Sunday in 1923. Shortly afterwards, a pipe organ was installed at the new building.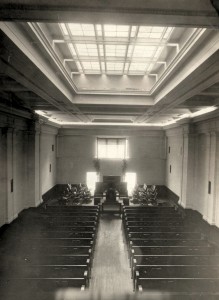 For more than a hundred years, the Armenian Evangelical Church of New York had been sustained in challenging times by the devoted leadership of ministers and officers alike. One of the pillars of the church is Rev. Antraning Bedikian, who served the church for nearly forty years. He was an excellent preacher and writer, who helped many Armenians transition to life in America.
Since the church moved to its current location on 34th Street, the neighborhood has undergone considerable changes. In 1980, members of the church decided to renovate and upgrade the building. The renovation and refurbishment of the church were completed in 1988; restoration for the pipe organ was completed by 1996. The church's stained glass windows are the work of Hovsep Pushman.
For over a century, the Armenian Evangelical Church of New York has served as a spiritual center and haven for Armenians in search of new lives in America. The church's sanctuary has been home to thousands of followers of Jesus Christ. It continues to be a place of worship for anyone who walks through its doors.